Spanish intelligence officials said have suggested the CIA was involved in a break-in at the North Korean Embassy in Madrid last month where diplomatic staff members were bound and held hostage, reports claim.
Local newspaper El Pais reported Wednesday that investigators have identified two of the 10 assailants who broke into the embassy and said they have connections to the CIA – a claim the intelligence agency has denied.
"Although most of the [attackers] were Korean, at least two of them have been identified by Spanish intelligence services as having links to the U.S. CIA," the newspaper reported.
The paper said Spanish authorities raised the matter with the CIA, which reportedly denied involvement, "but not in a very convincing matter.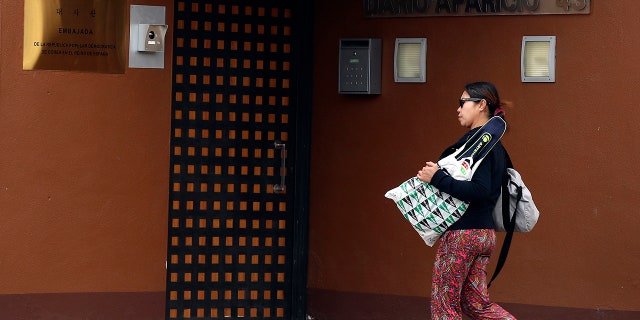 Spain's El Confidencial, which broke the news of the incident, also reported Wednesday that Spanish officials have linked two assailants to the CIA.
SPANISH POLICE INVESTIGATE INCIDENT AT NORTH KOREAN EMBASSY IN MADRID THAT LEFT WOMAN HURT
National police in Madrid launched an investigation into the Feb. 22 incident after officers assisted a North Korean woman with unspecified injuries.
The Spanish Interior Ministry said at the time that neither North Korean diplomats nor other government officials had filed a complaint.
El Confidencial reported that the woman was one of the workers who was bound and gagged by the unidentified assailants.
According to officials, the assailants bound and gagged eight people, beat them and interrogated them before the woman managed to escape from a window. Her screams for help were heard by neighbors, who called the police.
VIETNAM URGES MALAYSIA TO RELEASE SECOND SUSPECT IN KIM JONG NAM NERVE AGENT KILLING
The assailants, with a number of computers on hand, fled in two luxury vehicles that belonged to the diplomatic mission and were later abandoned in a nearby street.
At least two of the diplomatic workers required medical attention, El Pais reported.
Investigators have said the attack was not the work of common criminals.
The incident, still under investigation, occurred five days before President Trump met with North Korean leader Kim Jong Un for their second summit in Hanoi, Vietnam.
Fox News' Katherine Lam and the Associated Press contributed to this report.