VT: With the world spreading bizarre rumors of Jewish plots, two world wars, secret nuclear attacks, mass shootings, gas attacks, even COVID and poisoned vaccine, this 2009 investigation of "Jewish control" of the internet is a place to start.
You can't stop hate until you know where it comes from…and why….
The Jewish hand behind Internet
Google, Facebook, Wikipedia, Yahoo!, MySpace, eBay…
https://www.islam-radio.net/islam/english/jewishp/internet/jews_behind_internet.htm
In the following document we will give an insight into the Jewish penetration of the Internet and also show the level of cooperation between leading Jewish Internet entrepreneurs and the racist Jewish 
Apartheid
 state of Israel.
The Jews – contrary to the "liberal" views they officially say they profess – in their suppressive acts practically demonstrate that they always seek to dominate the information flow, they don´t tolerate any dissent. It is just as when Israel says "Shalom" while Israel´s military at the very same time pounds its Arab neighbour states with bombs and missiles.
The Arabs have learnt the hard way the falsehood of these Jewish statements, it is now time for the rest of the non-Jewish world to get this right, and to see that the freedom of information on the Net is seriously threatened.
This document will not cover the entire field. Also, as it is timebound to an an anlysis that is from a 2009 perspective – things will change. Companies will change names, new actors will appear. But still this piece of work is unique and will give a guide into the mechanisms behind the Net, mechanisms that will continue to act even in the future. And as many of these Jewish entrepreneurs are rather young and the Internet seems to be here to stay, we will hear from them for a long time onward.
WARNING: Please note that the contents of some of the sites with revealing Jewish material we have linked to below, may be altered by the Jews in the future. Perhaps even information contrary to this document and Radio Islam will replace the original material we had linked to. This has happened before and for our part just illustrates the level of Jewish dishonesty.
Sections
Some Jewish "profiles" behind information on the Internet
| | |
| --- | --- |
|   |   |
| Google´s Jew Sergey Brin | Facebook´s Jew Mark Zuckerberg |
---
Google
(which in 2006 acquired YouTube)

Founders Brin and Page are Jewish
The Jewish site SomethingJewish.co.uk writes in a review by Marcus J. Freed of the book "Richistan", 05/09/2007 on "the Jewish boys from Google":
The global economy is vastly different to 40 years ago and today's new billionaires include the Jewish boys from Google, Sergey Brin and Larry Page, along with thousands of other 'instapreneurs'.
Larry Page – who shares the title of Google President even has an Israeli family connection.
B´nai B´rith Magazine, paper of one of the mightiest Jewish organizations, writes in their article "The Searchmasters", spring 2006, on "…Larry Page, whose mother Gloria is Jewish". The Magazine continues:
Larry's maternal grandfather, however, followed a much different path. He was an early settler in Israel, making aliyah in the spartan desert town of Arad.

  
Sergei Brin and Larry Page –"the Jewish boys from Google"
The Jewish entourage in Google
The Jew Craig Silverstein was the first employee hired by Google's founders Larry Page and Sergey Brin. "I am generic East European Jewish", Silverstein described himself in a recent interview. Silverstein was instrumental in developing the company's search engine, and was Director of Technology at Google for many years.
The Jewish woman Susan Wojcicki was the one who gave Google office space to start the business. Susan Wojcicki has since become Vice President of Product Management at Google overseeing AdSense, Google Book Search and Google Video. In 2014 she has attained the highly influential position as the CEO of YouTube.
This while here likewise Jewish younger sister Anne Wojcicki, a biotechnology specialist, in May 2007 during "a traditional Jewish wedding" ceremony (according to Israeli paper Ha´aretz, May 29, 2008) married the Google President Sergey Brin. Keeping everything neatly within the tribe.
SomethingJewish.co.uk writes 24/05/2007:
Jewgle wedding
By: Leslie BunderThe world's wealthiest Jewish bachelor is no more. Sergey Brin, co-founder of search giant Google and worth over $16bn got hitched to his long-time love Anne Wojcicki earlier this month in the Bahamas, but so secret was the wedding, that it has only recently been confirmed.

According to a report in the San Jose Mercury News, the wedding took place under a chuppah with both Brin and Wojcicki confirming their commitment to the Jewish faith, though no rabbi is said to have officiated at the ceremony.

Wojcicki, is the sister of Susan Wojcicki who gave Google office space to start the business.

In 2001, Brin's mother Eugenia commented she hoped he would find a Jewish bride. "I hope he would keep that in mind," she said.

Wojcicki, who has a background in biotechnology, has been active in Jewish projects and currently sits on the board of Reboot, a venture that engages Jews to explore their culture.

Recently, Wojcicki launched a biotech company 23andMe which has seen Google itself invest several million dollars into it.
Google's Susan Wojcicki who in 2014 became
the Jewish CEO of YouTube.
As such she was the mastermind behind the 5th June 2019 overnight deleting of tens of thousands of videos at YouTube, videos and videochannels that were critical of Jewish Power, of Israel and the one-handed, Jewish, version of events in WWII.
Justin Rosenstein was a top engineer at Google serving three years as Google´s Product Manager for Page Creator. Rosenstein was one of the first employees that Facebook´s Jewish boss Mark Zuckerberg poached from Google as Facebook began its rise in 2007. In 2008 Rosenstein left Facebook with Facebook´s likewise Jewish co-founder, Dustin Moskovitz, to form a new company.
Facebook co-founder Dustin Moskovitz (left) and
Justin Rosenstein (right)
Sheryl Sandberg
Another Jewish profile who has been important in the shaping of Google is Sheryl Sandberg.
Sheryl Sandberg was Google Vice President of Global Online Sales & Operations, a position from where she built and managed the online sales channels for advertising and publishing and operations for consumer products globally. Sandberg was behind Google´s AdWords, and sat in the board of Google´s philantropic arm Google.org.
Before Google, Sandberg worked for the Jew Lawrence Summers, first when he was Chief Economist of the World Bank, then as his Chief of Staff when Summers was Treasury Secretrary in the Clinton Administration.
The Jewish Chronicle (December 4, 2008) ran an article on the book "Jewish Wisdom for Business Success" – a book by Rabbi Levi Brackman and Jewish journalist Sam Jaffe – where they argue that the Torah and ancient rabbinic texts are not simply guides for holy living, they can also provide helpful career advice. The Jewish Chronicle writes:
Their book combines tips on good business practice gleaned from the Bible, Midrash and Kabbalah with examples of success stories such as Andy Klein, who quit corporate law to start a brewery and ended up with an investment bank, or Sheryl Sandberg, who rose to become vice president for global sales for Google. And while there are role models to emulate, there also ones to avoid: Pharaoh the gas ruach (man of coarse spirit) or Korah, the ba'al ga'avah, the arrogant egotist.
Sheryl Sandberg
As Vice President of Google´s Global Sales Sandberg was behind the AdWords project which links paid advertisements to search results, a gadget that allowed Google to turn their search engine into "extremely profitable business", as Rabbi Levi Brackman and journalist Sam Jaffe write in their book "Jewish Wisdom for Business Success", p. 2. They have the case of Sheryl Sandberg in the first chapter in their book as an example of Jewish business sucess. In the same p. 2 of their book:
Early in 2008, she left Google to become the second-in-command of Facebook, the emerging social-networking company.
Sheryl Sandberg – Jewish "second-in-command of Facebook" – is presently Chief Operating Officer at Facebook. As COO, Sandberg is responsible for helping Facebook scale its operations and expand its presence globally. Sandberg manages sales, marketing, business development, human resources, public policy, privacy and communications and reports directly to Facebook's Jewish CEO Mark Zuckerberg.
Sheryl Sandberg is well connected to the Jewish community and the "philantropy" business, a favourite Jewish pastime where they can take a small part of their enormous wealth gained from the "goyim" and put it in small projects completely after their taste, to show how humane, generous and an openminded they are. Sandberg was thus with Daniel Sokatch, CEO of the Jewish Community Federation of San Francisco, on a joint venture "addressing global poverty and social justice issues through philanthropy", December 10, 2008.
She also sponsors Jewish activities at for instance the Joshman Family Jewish Community Center, a center that not so surprisingly also has an "Israel connection", as their website says. The Joshman Center writes on this "Israel connection":
Our mission is to strengthen relationships between American Jews and the Israeli émigré community and to build a deeper connection to Israel.
See: http://www.paloaltojcc.org/index.php?src=gendocs&ref=Rambam's%20Ladder%20Award%20Dinner%20and%20Auction%202009&category=Special%20Events&submenu=Special_Events
Sandberg was included in Fortune's 50 Most Powerful Women of 2007.
She is married to former Yahoo! music head David Goldberg with whom she has two children.
More Google Jews – Elliot Schrage, Ethan Beard, and the Rubins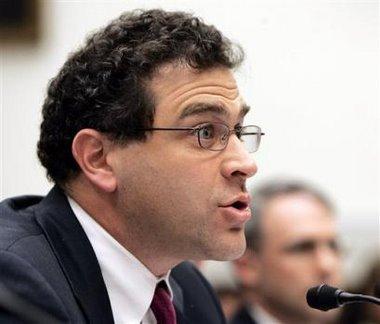 Elliot Schrage
The Jew Elliot Schrage was since 2005 Google´s Vice President of…