Will Donald Trump Win the 2020 Election?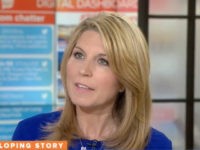 During MSNBC's coverage of former FBI Director James Comey's testimony before the Senate Intelligence Committee earlier in the day, MSNBC host Nicolle Wallace called Donald Trump, Jr.'s tweets criticizing Comey "pathetic." Wallace said, "This idea of the son as the only person sort of channeling this president in attacking the character of Comey, I think, speaks for itself. A normal White House on a day like today would have, you know, former attorney general and people in law enforcement sort of making legal arguments." "This is a president without a lot of defenders in Congress, without a lot of defenders in the law enforcement community," she continued. "For a guy who kills baby elephants for kicks to be giving James Comey a lesson in character and strength of character is rich at best and pathetic at worst." Follow Pam Key on Twitter @pamkeyNEN


read more
Facebook has greatly reduced the distribution of our stories in our readers' newsfeeds and is instead promoting mainstream media sources. When you share to your friends, however, you greatly help distribute our content. Please take a moment and consider sharing this article with your friends and family. Thank you.