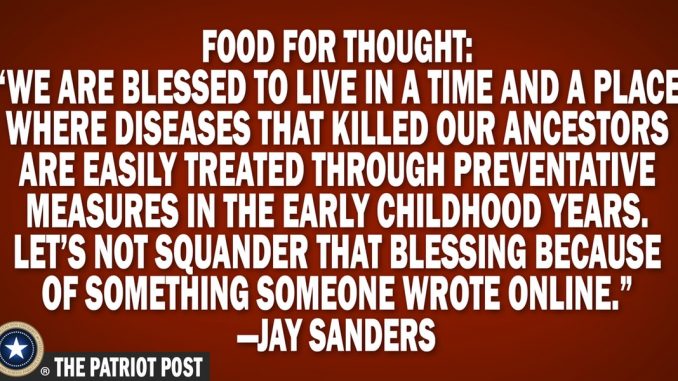 Will Donald Trump Win the 2020 Election?
Upright: "We are having the anti-vaccine discussion for the same reason we are having to remind people that commies are bad. People haven't experienced mass pandemics or Soviets in some time. They've forgotten and now the loudest voices are the ones who believe the lie." —Erick Erickson
Food for thought: "We are blessed to live in a time and a place where diseases that killed our ancestors are easily treated through preventative measures in the early childhood years. Let's not squander that blessing because of something someone wrote online." —Jay Sanders
For the record: "I don't miss it. You know, everything now … everyone has to know your politics. I tried to use Johnny's model, and I would get hate mail from both sides equally and thought, 'Well, that's fabulous. That's exactly what I want.' But when people see you as one-sided, it makes it tough. And, you know, I did it when Clinton was horny and Bush was dumb, and it was just a little easier. Now it's all very serious. I'd just like to see a bit of civility come back to it." —former late-night comedian Jay Leno
A blind squirrel finds a nut: "Yes, I do [believe in capitalism]! I think it also, when it doesn't work, it's been a force for bad, but that's been true of every form of government that we can identify. We've gotten it right sometimes, and we've gotten it wrong sometimes. When you let markets work with rules and with people on the beat to enforce those rules, we can produce a lot of wealth in this country." —Elizabeth Warren
Non Compos Mentis: "We should be excited about automation, because what it could potentially mean is more time educating ourselves, more time creating art, more time investing in and investigating the sciences, more time focused on invention, more time going to space, more time enjoying the world that we live in. Because not all creativity needs to be bonded by wage." —Alexandria Ocasio-Cortez
Braying Jackass: "This motherf—er is like ruining the planet and all kinds of other crazy s—t. And the people think that's okay. It's not f—ing okay. And if you're not saying anything, then you're complicit." —Samuel L. Jackson on Donald Trump and his supporters
And last… "Get ready to see lots of reporters throwing their panties, and I'm not just talking about the men from Vox. Robert Francis O'Rourke is running for President." —Erick Erickson
Facebook has greatly reduced the distribution of our stories in our readers' newsfeeds and is instead promoting mainstream media sources. When you share to your friends, however, you greatly help distribute our content. Please take a moment and consider sharing this article with your friends and family. Thank you.