BY CLEMEN RATFORD ON 11/13/19 AT 4:27 PM EST
Actor and comedian Tom Arnold accused President Donald Trump of previously abusing Adderall on the set of NBC's The Apprentice.
"Donald Trump abused Adderall on the set & it made him crazy. He even snorted Adderall. Mark Burnett knew it. It's scary," he wrote in a tweet, accusing The Apprentice creator of knowing that the president took the attention deficit hyperactivity disorder drug.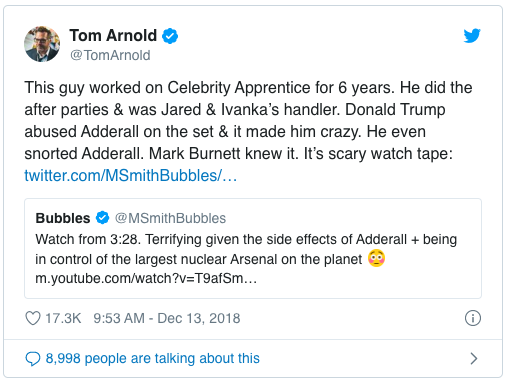 Arnold's tweet came in response to allegations from stand-up comedian Noel Casler, who claimed he worked on The Celebrity Apprentice for six years. During a set earlier this month, Casler said that Trump snorted crushed-up Adderall and called the commander-in-chief a "speed freak." He also alleged that the president would also invite teen beauty pageant participants up to his room.
Newsweek reached out to Casler on Twitter, seeking proof that he worked on the show, but did not receive comment prior to publication.
"I worked on a bunch of those beauty pageants he had in the '90s, too. That was a good idea, Miss Teen Universe? Yeah, that's like giving Jeffrey Dahmer a cooking show. He would line up the girls on the side of the stage, and he would inspect them. Literally, he would stick his little freaking doll fingers in their mouth and look at their teeth," Casler said. "I'm not kidding, this is true, he would line them up like they were pieces of meat. He'd be like, 'You, you, and you, if you want to win I'm in the penthouse suite, come and see me.' If Trump had a cooking show they'd call it "The Douchebag Diet." McDonald's, chocolate ice cream and girls that look like Ivanka are all he ever eats."
He then alleged that Trump was a "speed freak" who "crushes up his Adderall and he sniffs it because he can't read, so he gets really nervous when he has to read cue cards."
Casler said that he had signed a non-disclosure agreement. "I didn't know that he was becoming president. Now it's no way dumbass, I'm telling you everything I know."
Arnold has previously spoken out against Trump and Burnett. He claims tapes exist that show the president acted inappropriately on the set of The Apprentice, but has not brought forth evidence to back up his allegations.